NOTE:
If you face any problem then please don't ask question on demo website (in test posts). Please use our forum http://www.findalltogether.com/forum/laravel/. You will get email when there will be any response to your question.
What is this application?
This is a simple blogging application with the following features:
Anyone can login/register
Users can be 'admin', 'author' or 'subscriber'.
Authors can write/update/delete their own posts.
Admin has full access on the website and can read/ write/ update/ delete any of the posts.
Anyone can read these posts
Users can comment on the posts (only after login)
Demo:
Demo of the application is hosted on Heroku. View Demo. By default, users are authors (so that you can see complete demo). Your email is required to avoid spam users. Your email will neither be shared with third party nor be used by us for sending emails. Honestly we do not spam your inbox. (Although if you do want to receive relevant tutorial emails from us you can subscribe!)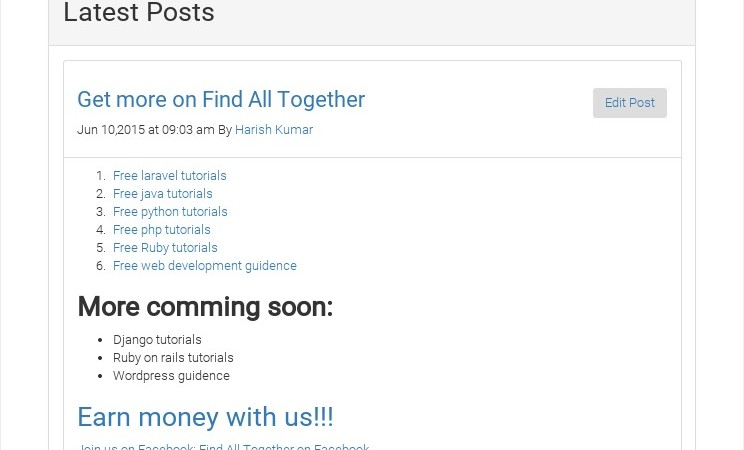 Source code:
The source code of this application is on Github. Code on Github. This code is open source and you can use and modify it for your projects.
Pre-requirements:
Knowledge:
This series is written with an assumption that readers are newbies to the Laravel framework but have some experience with PHP. If you don't know PHP then use my Step by step PHP tutorials series. For laravel tutorials read Laravel 5 Tutorials.
Softwares:
Installed PHP, Mysql, Laravel 5
Install Laravel 5:
curl -sS https://getcomposer.org/installer | php


mv composer.phar /usr/local/bin/composer


composer global require "laravel/installer=~1.1"


laravel new blog

Now change directory (in terminal) to inside blog folder and use command:
Introduction to all parts:
Connect with mysql database
Create posts and comments tables
Routes
Create post model
Create comment model
Create User model
PostController
CommentController
Customize app.blade.php
make home view
Create posts
Show posts
Edit posts
Add tinymce to posts
Make profile backend
View for profile

NOTE:
I am assuming that you are following the tutorial to create the application and not just reading the code.
I am giving all commands from the app directory, i.e., from the folder blog.
This is very simple blogging application. I will extend it to be more advanced in upcoming articles.